About TASRI
Home >>About TASRI
Introduction to the TASRI Team
Tsinghua Automotive Strategy Research Institute (TASRI) was founded in May 2013.
Based on its abundant industry experience, Tsinghua Automotive Strategy Research Institute (TASRI) is devoted to comprehensive academic research and strategy consulting services in fields of automotive industry development, corporate development strategy and operations management, technology development roadmap and human-vehicle-society interaction by virtue of the authoritative platform of Tsinghua University and pioneering achievements in related disciplines.
Position
Integrate both comprehensive academic research and practice-oriented industrial think tank and corporate consulting services;
Provide decision-making support for national and local governments;
Provide development advice for various enterprises along the whole automotive industry chains and in such related industries.
Mission
An independent think tank for China automotive industry.
Research Areas
Integrated research on industry, corporate and technological strategies as a trinity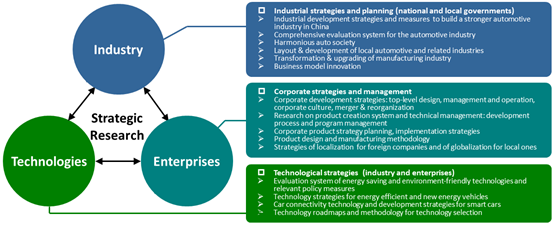 Research System
Extract and refine generic academic methodologies that are linked to national strategic directions and adapt them to practical corporate demands
Set foothold in the automotive industry, based on the technologies, and take the means of economy and management
One Principal Line: comprehensive analysis and prediction of technologies, products, enterprises, automotive sector and the society

Two Major Directions: energy and environment

Five Dimensions: efficiency, cost, potential, regulations and the market

Methodology: full life cycle analysis; multi-index evaluation model; econometrics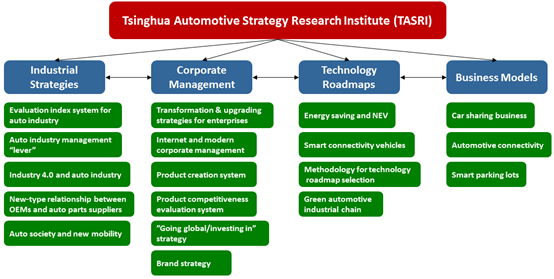 Institutional Setup

TASRI team is proud of its rich industry experience and abundant academic resources. The team encompasses senior experts with 20~30 years of industry experience, and backbone teachers with academic expertise and work experience in corporations, as well as outstanding consultants and advisors.
Research team: 32members
Director: Prof. Fuquan (Frank) Zhao
Staff: Associate Professor, Dr. Zongwei (William) Liu; Assistant Professor, Dr. Han Hao
Specialists: 2
Research associates: 4
Post-doctoral fellows: 2
Graduate students: 17 (8 PhD students, 7 Master students, 2 Master of Engineering students)
Research assistants: 4
Research team in Suzhou: about 30 members